Is Gruul Dinner the Best Deck in Explorer? No. It's Not.
Inspired by TikTok videos of people treating themselves to plates comprised of three grapes, a piece of deli ham and a tablespoon of peanut butter, Jason builds Gruul Dinner.
Inspired by the glowing rectangle
It is 2:37am. You can't sleep. The buzzing from the streetlight outside feels ferocious tonight; as if nothing you could do will possibly get you to sleep. The melatonin. Lavender tea. The Charles Dickens novel you keep on the nightstand for emergencies (it's Bleak House and you still haven't finished it since it was assigned in Freshman year). You turn to the only thing left, the one thing you shouldn't touch, but now…now nothing matters. Reaching over to your wireless charger, the monolithic shape of your phone calls primally to your hand. As if by sheer magnetic force, you palm the device, slide fingers across the passcode, and instinctively hit the TikTok icon. The burning, white-hot light from the opening advertisement for the latest show on Peacock thrums in your ears and with a swipe you hear the siren call. Softly starting; hardly a whisper, growing and burgeoning in its shape the mind virus infecting your For You page sings out in dulcet tones: "GRRRRRRRRRLLLLLLLLL DINNER"
Dear reader, I apologize for the effusion, but without context, the following brew might seem a tad…random. That said, I was inspired by the semi-recent tiktok trend, Girl Dinner and the expanded options for Food strategies in Wilds of Eldraine. Without further preamble or presumption I present:
Gruul Dinner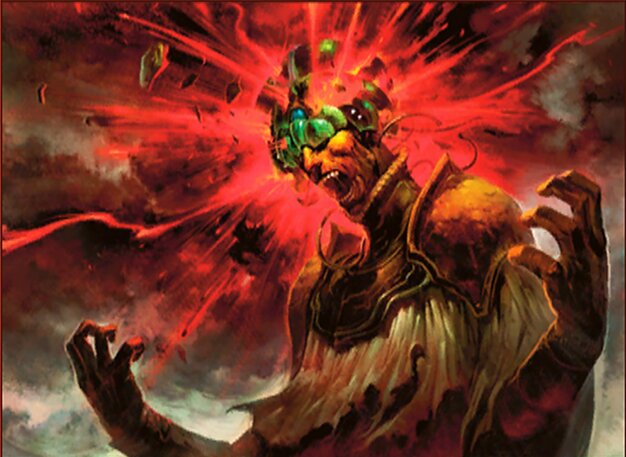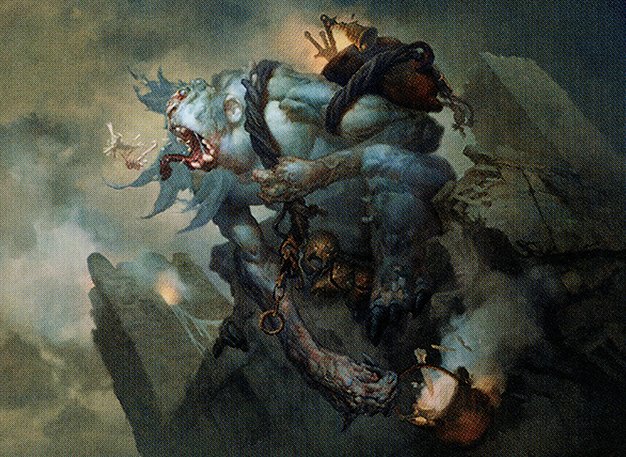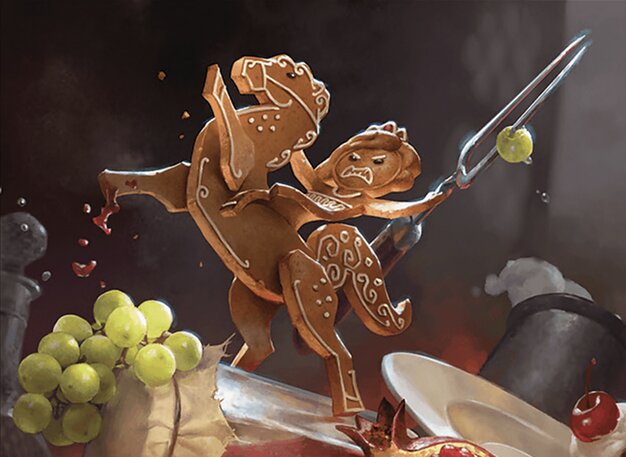 60 Cards
$303.42
15 Cards
$29.51
Feasting Troll King
A massive, un-Pushable threat with great stats and keywords. Sadly, it's uncommonly castable, but possible if you are on Fables.
Candy Trail
Possibly the best card in the strategy. Cheap, efficient card selection, Food type, incidental life gain; what's not to love? Candy Trail allows us to keep two-land hands, curve into Troll Kings, and easily set up Syr Ginger triggers.
Tough Cookie
This is a weird one. It's a Limited bomb, but can leave money on the wood in constructed play. Yet, six power on turn three and a full grip can be an enviable position, doing a bit of a Bankbuster impression. Still, the card itself is soft to red removal and black removal, but is one of the better cards to draw in the mid to late-game. Keep an eye on this one for potential swaps.
Syr Ginger
A massive threat to the mono green players – this card creates pressure through the natural strategy of the deck thanks to all the food. The scrying built into this card has great text with Candy Trail especially. I'm usually impressed by Syr Ginger, but can feel weak in the Rakdos matchups of the world. This is one that I'm high on but would potentially keep an eye on for cutting or trimming. Also, it combos with the Troll King on turn three, putting 13 power on board if sequenced correctly.
Gingerbrute
A one-mana food card that also blocks and attacks. Not many notes here. We've had this one for a while and it has a lot going for it. I find it particularly weak without Sweettooth in play, but the power level jumps when you can stack it with counters from the saga and swing unblockable.
Welcome to Sweettooth
I'm very high on this card. The text lines up well with our deck. It creates a body, pressure, and cardboard relevant to our strategies. It gives us some lines in the early to mid-game as well when we miss turn-three Troll (most of the time) and easily generates massive, must-answer threats. Turn-two Welcome into turn-three Fable easily sets us up for a Troll in the midgame and forces your opponent to deal with the growing pressure on board.
Night of the Sweets' Revenge
I do not like this card here. I tried it extensively in early versions, and despite recent success online from AspiringSpike, I don't think we can afford to spend four mana to make food. Revenge does do a bit of a magic trick if you have tons of food laying around, but my experience was that by the time we can afford to lay out the time to resolve this spell, we were hellbent and had nothing to spend the mana on. If you can turn all the extra mana into an activation for some huge swing, I think this is just a bad Overrun. I'm happy to eat crow on this one, but in my construction I couldn't get it to work well. Maybe with Food Fight?
Food Fight
This is another sketchy choice. It competes directly with Shrapnel Blast, doesn't make food on ETB, and asks us to tie up mana in a 21-land deck for a shock or lightning bolt usually. I have closed games out with this before, but Shrapnel Blast does the same as often, but also kills Sheoldred. I kept it in this list for the theme alone, but I could potentially see something with this if we splashed blue? I think this is a pass but not embarrassing.
The Plan
The primary goal is to enjoy Gruul Dinner. Please do so responsibly.
Unlike Modern, which has far more powerful Food cards (AsmoBook), Explorer/Pioneer cannot afford to jam four Troll Kings into a deck with 21 lands. Hands can line up for Trolls on turn three, but don't mulligan for it.
Flooding the board with multiple Food types is an easy way to set up later turns with Food Fight/Shrapnel Blast or Syr Gingers.
Spot removal is the enemy, but a dense hand can overwhelm a Rakdos player looking to trade resources.
Fable is generically good and also offers chances to discard Troll King – however, I have cut it in other versions specifically because we want to be at parity or ahead when we cast it and we are low enough to the ground that that isn't always an option.
The critical path for max damage is turn one Food, turn two Food, Food, turn-three Syr Ginger, Neonate discard Troll King, sacrifice three Food to Troll King and pump Ginger.

As a result, there is a more all-in version that could consider Bitter Reunion or Rabbit Battery to haste the King on the same turn, but I worry those hands would fold so brutally to Thoughtseize you'd be left in a miserable position.

The deck isn't amazing! It is hilarious and there are some strong interactions here. Troll King can't be pushed, blocks well, and with so much card selection via scrying it isn't impossible to hard cast a Troll at some point if the games go long.
Food Fight is probably better as Shrapnel Blast most of the time, and I've switched it over in my list today.
If you're looking for something hilarious to jam on the ladder, or something fun for the PlayAway leagues, this is actually a meme. With just two cookies and a jellybean you too can Troll (king) your opponents to death!
Don't forget to feed the dog
As brewing often goes, I noticed while testing that much of this list is Zirda compatible. And what good meme build would be complete without a Zirda pivot? Additionally, Soul Cauldron is probably a meme, but it strictly adds pressure on your animated Food Tokens at the very least.
I present….
Dinner with the Dog
Dinner With The Dog
Explorer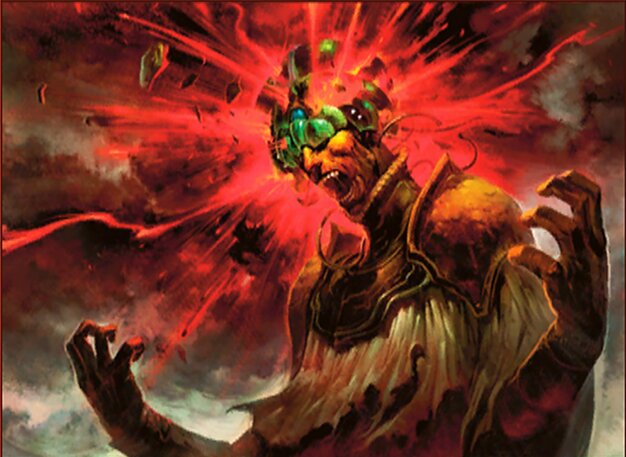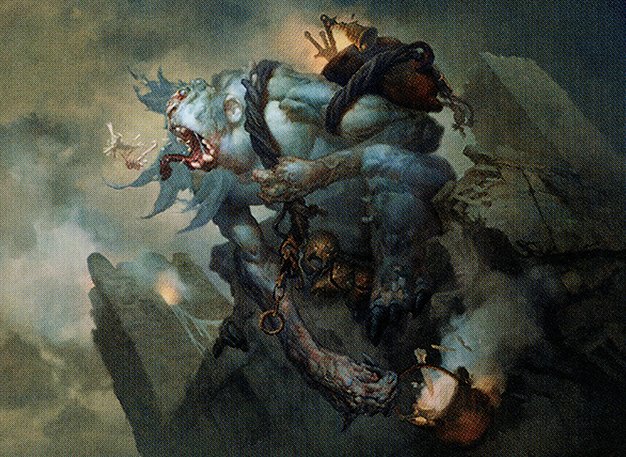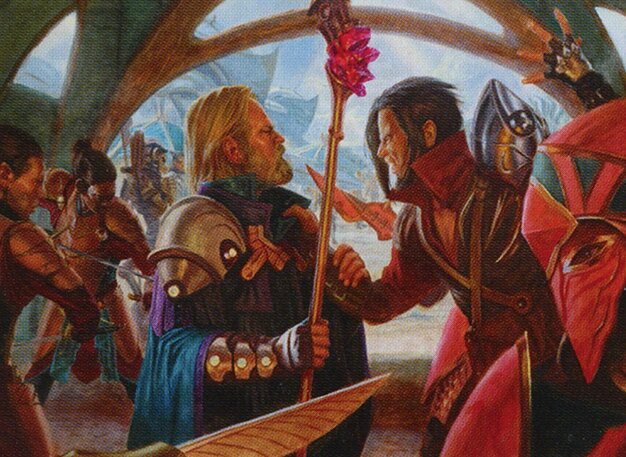 60 Cards
$327.74
15 Cards
$29.93